Home » Product Range » Common Rail System Tester with Injector Coding
Common Rail System Tester with Injector Coding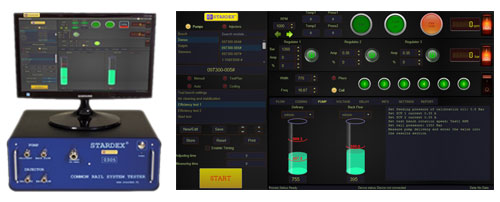 Model: AG Precision - Stardex 0305
Leveraging the skills of our qualified team of professionals, we are instrumental in offering a wide range of Common Rail System Tester with Injector Coding. This Common Rail Injector Tester is valued amongst our clients for its unique design and abrasion resistant attributes. Client's can purchase these products at feasible rates. It is widely used for flaw location in track as well as flaw location in rail.
Features:
Multi-functional single-channel simulator for complete testing and calibration of Common Rail injectors and pumps of all makes: Bosch, Delphi, Denso, Siemens, Caterpillar, Cummins etc.
With the help of any fuel injection test bench, you can professionally test and adjust any Common Rail (electromagnetic and piezoelectric) injector and almost all common rail pumps available on the market today.
The device checks injectors one by one for the test, using 2 independent pressure regulator channels.
The test database contains over 2300 test-plans for Common Rail electromagnetic and Piezo injectors and CR pumps.
Injector coding is supported in most Bosch, Denso and Delphi CR injectors (16 digit C2I codes).
The unit is inbuilt with electronic digital measuring unit / flow sensors, which automatically measure and display the main supply / output and return / back leak flow of injectors and pumps. The values are automatically compared with the stored test plan values.
Comes complete with laptop and Stardex software for running the Common rail injector and pump tests. Software upgrades are provided free of cost for lifetime.
User can operate the unit in Automatic mode, Test plan mode and Manual mode as well. Also the user has the capability of creating and adding their own test plan to the computer / software.
User can print test results or save them as a PDF file on his / her computer.
Home | About Us | Infrastructural Facilities | Client List | Media Gallery | Dealer Enquiry Form | Contact Us

Call Us : 08071877079
©
Indian Machine Tools
. All Rights Reserved (
Terms of Use
)
Developed and Managed by
IndiaMART InterMESH Limited