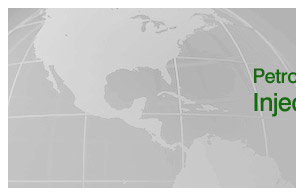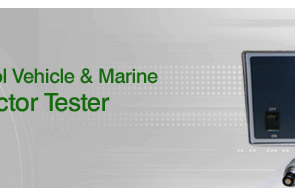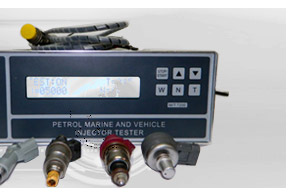 Home » Product Range » Petrol / GDI Pumps and Injector Test Bench
Petrol / GDI Pumps and Injector Test Bench
GDI - Petrol Injectors and Pumps Test Bench
Model: GDI 101
Introducing the
World's first dedicated GDI (Gasoline Direct Injection) injector and pump test bench
designed for quickly testing all kinds of GDI injectors and pumps of all
makes
.
Function / Application
:-
It can test GDI Injectors of all makes and of both Solenoid and Piezo technology - It is used to diagnose the Faulty injector by testing it for its spray pattern, output delivery at different system pressures, injector pulse widths and injector frequencies as well as body leaks, if any.
GDI Pumps of all makes can be tested, as shown in pictures above we have shown testing of 'BMW' engine and 'Mini Cooper' engine GDI pumps and injectors . User can diagnose faulty GDI pumps if they are not developing sufficient pressure / if the solenoid (Fuel metering control valve) on the pump is not functioning well and if the output delivery of the pump is not sufficient (Bench comes fitted with a Rota meter / Flow meter to measure the output delivery of GDI pumps), output delivery can be measured at different system pressures and with pump DRV / solenoid / PCV switched ON / OFF.
One can also test the solenoid (fuel rail pressure control valve / DRV / FCA) mounted on the GDI pump for proper function.
The bench comes fitted with the GDI / Common rail injector, pump and fuel rail simulator attachment through which user can control the following:-

The injector pulse width (W) - Which determines the volume of delivery per spray.
Injector frequency of spray / RPM of engine (N) - Which controls the number of sprays per second.
Monitor the system / rail pressure which is displayed digitally on the simulator screen.
The solenoid / DRV on the GDI pumps to switch on / off the fuel supply from the pumps.

Extremely compact and lightweight test bench, ideal for workshops who intend to start GDI injector and pump testing. Also ideal for small workshops which have a space constraint to accommodate a bigger test bench.
Test Bench Specifications and Features
:-
Main Motor (Make – ABB Motors): 5 HP, Single Phase – 220 V OR Three Phase 380 / 400 / 415 V, 50 / 60 HZ (as per customer requirement)
Drive (Make – Schneider Electric): The GDI 101 is fitted with a 5 HP Schneider AC Frequency / Electronic drive.
Test Bench RPM: The user can set the desired RPM of the test bench anywhere from 0 – 3500 RPM. With electric push buttons to increase / decrease speed of the bench.
Injector Delivery Measurement: GDI Injector output delivery is measured in the test tube fitted on to the bench. The bench is also fitted with a digital tachometer, through which the user can control the time for which the reading of output delivery of the GDI injector is recorded by the bench. The test then automatically stops once the set time elapses. The tubes can then be electrically drained via a push button on the front panel of the bench.
A dedicated Rota meter (Flow meter) is installed on the test bench to measure the output delivery of all GDI pumps.
The test bench comes fitted with a multipurpose foundation / mounting and suitable coupling which is suitable for mounting various types of GDI pumps. The test bench also comes complete with suitable fuel rail mounting stands for mounting various types of GDI rails.
The test bench comes complete and fitted with all necessary high pressure pipes, electrical couplers for various kinds of GDI injectors and pumps, and other necessary accessories to enable trouble free and speedy testing.
The main testing area is well shielded with an unbreakable transparent acrylic shielding box, which can be lifted up when desired. This is for the safety and protection of the operators when observing spray pattern / performing other injector and pump tests etc.
The bench is fitted with a digital tachometer with stroke counter; to take delivery readings the user can enter the desired 'test time' in multiples of 5 seconds for which the reading has to be taken, for example; readings can be taken for 5 seconds, 10 S, 15 S, 20 S and so on.
The bench also comes fitted with an exhaust system in the main shielded enclosure area. This is provided to help remove the spray fumes produced during injector spray pattern tests.
Bench comes fitted with a 400 Bar range, heavy duty, glycerin filled pressure gauge to monitor the system / rail pressure. One can control the pressure in the system from 0 – 300 BAR by regulating through the manual pressure control valve provided on the front panel of the bench. Also the pressure in the system is read and monitored through a pressure sensor fitted internally and is displayed digitally on the LCD screen of the simulator unit fitted on the front panel.
Fuel Tank Capacity: 20 Liters
Dimensions: L X W X H - 95 X 80 X 75 (In centimeters / cm)
Net Weight: 210 KG
Gross Weight (With Wooden packaging): 330 KG
Power Supply: 220 V, Single phase OR 380 - 440 V, 3 phase OR Custom as per customer's requirement.
Users can use Stoddard Solvent, also known as mineral spirit, as the working fluid for the GDI test bench. This is the standard working fluid that gasoline fuel pump and injector suppliers use for bench testing as it has properties similar to Gasoline without the volatility and explosion risks.
Bench comes complete with all necessary Operation manuals.
Petrol Vehicle & Marine Injector Tester
Model: MIT-7200
Petrol Vehicle & Marine Injector Tester is designed to offer users capabilities of driving wide array of Marine, Automotive, Industrial 12V system injectors with circuitry support that provides for complete control to the users over factors like RPM, N that determines frequency of spray per second. Further, it comes with ability to drive high-amperage injectors and are tested with injectors carrying resistance readings of as low as 1.4 ohms with excellent as well as stable results.
Coming with simple, clear as well as concise user input support, these are also suitable for consistently driving today's high-amperage MARINE injectors. It finds usage in driving as well as testing mostly all gasoline injector brands including Throttle Body, Multipoint/Multiport, most of direct injectors as well as side feed fuel injectors.
Features
:- 
The MIT-7200 offers users the capability of driving a wide array of Automotive, Industrial, and Marine 12V system injectors.
It's unique design and circuitry allows the user COMPLETE control over RPM, N, which in turn determines the frequency of spray per second (F = N / 60, for example: if set RPM, N = 7200, then the frequency of spray F = 7200/60 = 120 sprays per second), Injector Pulse Width, W (in micro seconds) which is the time for which the injector nozzle opens to spray hence determining the volume of delivery per spray, and Test-Run Time, T (in seconds) which determines how long a test runs for, allowing the user to test a wide variety of injectors at any realistic settings (often well outside of the parameters an ECM/PCM or traditional testing equipment allows).
Unique to the MIT-7200 is its ability to drive high-amperage injectors (injectors with low resistance ratings).  We have tested it with injectors that carry resistance readings of as low as 1.4 ohms (and as high as 15 ohms) with excellent and stable results.
User inputs are simple, clear, and concise.  Faceplate display is well backlit, and easily readable in dim OR bright lighting environments.
The MIT-7200 boasts very precise and consistent outputs, and is truly the only unit we've found capable of consistently driving today's high-amperage MARINE (and DIRECT) injectors.
Applications
:-
The MIT-7200 is capable of driving and testing NEARLY ALL gasoline injector brands.  Multipoint/Multiport, Throttle Body, most direct injectors, and side feed fuel injectors.
It's capabilities (driving, anyway) exceed those of the ANSU unit (of which you may be familiar). 
In the marine industry, we have been servicing Mercury, Mercruiser, Yamaha, OMC, Bombardier (except E-tec and Ficht - Testing needed there), Sea-Doo, Yamaha PWC, Honda outboards and PWC, and Volvo Penta (all).
Automotive style injectors drive-able would include nearly all utilized by GM, Ford, Chrysler/Dodge, VW (electronic injector models), Honda, Kia, Hyundai, Toyota, and many many others.
Specific gasoline injector brands would include JEC side feed, Denso Top Feed, Rochester, Delphi, Keihin, Siemens, and MANY others. 
The Marine / automotive Gasoline Injector Tester unit comes complete with:-
The electronic unit / simulator with the mains connection cable and electrical connector cable for connecting to 12 V system injectors.
The operation manual explaining how to operate the equipment.
Power Supply:-
The MIT 7200 tester is available in both 110 / 120 V 60 Hz (USA and others) and 220 / 230 V 50 Hz (UK and others) power supplies. Please leave a message after your purchase as to which power supply you prefer.
Home | About Us | Infrastructural Facilities | Client List | Media Gallery | Dealer Enquiry Form | Contact Us

Call Us : 07942557787
©
Indian Machine Tools
. All Rights Reserved (
Terms of Use
)
Developed and Managed by
IndiaMART InterMESH Limited